Registration now open – register here now!

The #RSCPoster Twitter Conference is an online event held entirely over Twitter to bring members of the scientific research community together to share their research, network and engage in scientific debate.
We are excited to announce that the 2019 event will be held: Tuesday 5 March 2019, 09:00 GMT – Wednesday 6 March 2019, 09:00 GMT.
Registration now open: here.
Get involved:
Share a poster of your research
Network with researchers by following #RSCPoster
Engage in scientific debate by commenting on posters
With subject hashtags spanning the core chemical sciences and related fields, whatever your field, connect and showcase your research:
* New for 2019
Submit a poster:
Register in advance – click here and register via the RSC Events page now. Registration isn't required but please register if you want to be eligible to win a prize.
Tweet your poster image with a title, #RSCPoster and relevant subject hashtag(s)  – during the 24h conference beginning 5 March 2019, 09:00 GMT
Discuss and engage – throughout the 24h conference make sure to answer the questions from the community, committee and comment on other #RSCPosters
Win a prize:
Win prizes if your #RSCPoster and presentation is deemed best by the 2019 subject chairs – prizes to be confirmed…
Audience participation prize will be awarded to the poster that receives the most retweets. The lucky winner will receive a chemistry-themed board game: Compounded. Compounded is a game where players take on the roles of lab managers, hastily competing to make compounds before they are completed by others or destroyed in an explosion… With thanks to Dr Sam Illingworth (Manchester Metrapolitan University) for supporting this prize.

For more information visit the event blog here.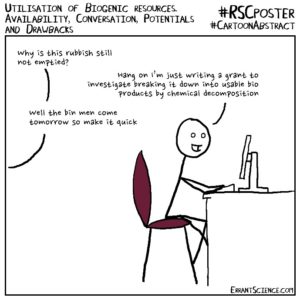 Frequently Asked Questions
Do I need to check the copyright and permissions needed for figures or any other parts of my poster which have already been published?
Yes. Copyright owners have the exclusive right to copy their work and to issue copies of their work to the public, and it is an infringement for anyone else to do so without the copyright owner's permission. If you are reproducing material contained in a Royal Society of Chemistry publication (journal articles, book or book chapters) you may do so providing that you fully acknowledge the original Royal Society of Chemistry publication and include a link back to it. If you wish to include material that has been published by another publisher, you will need to check how the publisher/copyright owner of the third party material wishes to receive permission requests. Information on this can be found on our Permission Requests page at http://www.rsc.org/Publishing/copyright/permission-requests.asp under "Use of third party material in our publications".
If I include unpublished work in my poster, will I still be able to publish this in a peer-reviewed journal afterwards?
Subject to the usual conditions outlined in the License to Publish, being a part of the Twitter conference will not prevent you using some of the information included in your poster as part of an article in a Royal Society of Chemistry journal. Please note this policy varies by publisher and if you intend to submit your research for publication elsewhere after the event, you should check the individual policy for that journal and publisher.
What size should my poster be?
You can choose any dimensions for your poster, the important thing is that the text and figures are clear for people to read and understand. Using Microsoft PowerPoint, we found a text size of between 12-16 were clear to read when saving an A4 slide as a JPEG and uploading to Twitter. Using an A0 template, the text needed to be between 50 and 60 to be legible. You can use any software you like to create your poster, as long as the image you upload is clear for others to read. We recommend testing your poster on Twitter before the conference to make sure you are happy with your image.